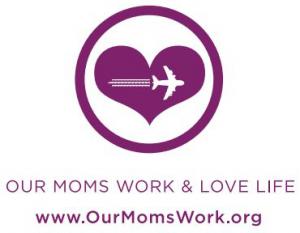 Join the Club Rewarding Kickass Moms Travel to See the World for Good
Recruiting for Good is Rewarding Funding for 10 Awesome Mother Daughter Trips

We Love Rewarding Rockstars in Life Travel
Our Moms Work is a community service sponsored by Recruiting for Good to help moms celebrate life; by rewarding collaborative funding for fun B-Day Paris trips
Want to Celebrate a Mother Daughter B-Day in Paris? Then, Join Our Moms Work to Get Help Funding Your Awesome Trip and Party for Good"
— Carlos Cymerman, Passionate Founder, Celebrating Women
SANTA MONICA, CA, UNITED STATES, June 5, 2018 /EINPresswire.com/ — 'Our Moms Work' is leading the "Celebrating Women" campaign by rewarding working moms access to a personal travel funding service. Recruiting for Good is honoring 10 working moms who are 'rockstars in life' and rewarding collaborative travel funding to enjoy '7-Day Mother Daughter B-Day Paris Trips in 2019.'
According to Recruiting for Good Founder, Carlos Cymerman, "Moms work longer now than ever before, and are making more sacrifices too. We celebrate women; and help working moms enjoy life-work balance thru our rewarding travel funding service and change their life for good."
How to Qualify for Our Moms Work Travel Funding Service
1) Working Moms must be at least 35 years old, live in L.A., and have 10 years of making a difference experience, (being a great mom counts, need references).
2) Attend an invite only VIP party in Santa Monica to meet Recruiting for Good founder in person. The Foodie Party is hosted at restaurant, Air-Food, attendees enjoy delicious tapas. RSVP with Susan(at)WePartyforGood(dot)com to attend.
Carlos Cymerman, "We sponsor Our Moms Work to have fun…because, when we all love life the party never ends. Join us to 'celebrate women'..Your B-Day or Daughter's B-Day in Paris."
About
Our Moms Work is a community service sponsored by Recruiting for Good, we provided 1 on 1 mentoring service at "no cost to moms." And offer a collaborative travel funding service to help working moms Celebrate B-Days in Paris, experience "My Escape to Yoga" retreats, and Party at Hawaii Food and Wine Festival in Maui.
"We are grateful to have L.A.'s best luxury travel expert, Denise Schaefer designing and managing our Escape to Celebrate Paris Trips." Denise has 35 years of travel experience. In 2014, she was honored to be in the Top 25 All Stars for Travel Agent Magazine and in 2016 she was awarded one of the Top 10 Luxury Travel Advisor Trendsetters. Denise is also certified with Tourism Cares as a Global Travel Advisor – making a difference in the world and supporting clients through good giving and volunteering.
Recruiting for Good, a socially progressive staffing company in Santa Monica, finding talented professionals kicka$$ jobs, since 1998. Companies retain us to find the best talent in Accounting/Finance, Engineering, and IT professionals. "We support Our Moms Work, a fun community service." And reward referrals with travel to celebrate life, visit: www.RecruitingforGood.com.
AIR⋮FOOD is born of two passionate visionaries, Marc & Thierry. "They come from two completely different backgrounds. One was a contractor in logistics, the other a chef in London and Paris. What they both have in common besides the love of good food, is the love of street culture. Several years ago they met in Paris during a regular shoe sale at the place de La République…" AIR⋮FOOD is located at 109 Broadway, Santa Monica, CA 90401. Hours are 8:30 a.m. to 10:00 p.m. from Sunday to Thursday & from 8:30 a.m. to 11:00 p.m. on Friday & Saturday
Carlos Cymerman
Recruiting for Good
3107208324
email us here

Source: EIN Presswire